What is SMILE Eye Surgery?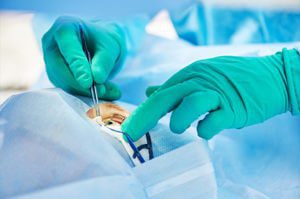 ReLEx (Refractive Lenticule Extraction) SMILE (Small Incision Lenticule Extraction) eye surgery is a relatively new development in vision correction procedures. SMILE eye surgery is a solution for patients with some refractive errors and often serves as an alternative to patients who cannot undergo LASIK eye surgery. 
Only a few laser eye clinics in the United States offer SMILE eye surgery—Toledo LASIK is one of them.
Download Our SMILE Laser Brochure
LASIK vs. SMILE Eye Surgery—Benefits & Limitations
SMILE Benefits
SMILE eye surgery takes about 15 minutes for both eyes and produces similar results to LASIK, except it's less invasive. The incision made with SMILE is less than 4 mm. SMILE also uses a single laser (LASIK uses two) and there is no flap created during surgery. You can expect a quick, comfortable recovery period following SMILE eye surgery. And if you enjoy an active lifestyle and are not a candidate for LASIK—SMILE may be your solution. 
SMILE Limitations
Every surgical procedure has some limitations. Since it is a relatively new procedure, SMILE is approved for myopia and astigmatism. A surgery like LASIK is approved to correct all types of refractive errors. 
LASIK Benefits
LASIK eye surgery has a long history of successfully correcting refractive issues. Surgery only takes about 15 minutes or less to complete, and most patients notice results almost immediately. Most patients also report a quick and comfortable recovery period.
LASIK Limitations
Although over 14 million Americans have undergone LASIK, it's not a solution for everyone. If you've had a recent change to your eye prescription, have thin corneas, or are nursing or pregnant, LASIK may not be right for you. Some eye conditions or diseases like cataracts, glaucoma, or chronic dry eye may exclude you from being a LASIK candidate as well.
Who Is Eligible for SMILE Eye Surgery?
Unfortunately, not all patients can undergo SMILE Eye Surgery. However, through a consultation, our doctors can tell whether or not you are eligible. Here are some of the factors taken into account. 
You must be at least 22 years old

No recent changes in your eye prescription 

You should have healthy eyes and corneas 

Your myopia between -1 and  -10 

Your Astigmatism should be less than 3 diopters 
Is SMILE Eye Surgery Right For Me?
Some patients are not candidates for LASIK eye surgery because of thin corneas, high prescriptions, dry eye, etc. Traditionally, the Toledo LASIK surgeon used PRK/ASA surgery for these eyes, which is a great procedure, but it takes longer to heal. SMILE vision correction is a good alternative allowing for the safety profile that PRK surgery provides for certain eyes, but with quick healing similar to LASIK.
The SMILE Surgery Procedure
Step 1: Lenticule Creation
Your surgeon will begin by creating a thin lenticule and small incision inside the cornea.
Step 2: Lenticule Extraction
Your surgeon will remove the lenticule through the incision with minimal disruption to the cornea.
Step 3: Impairment is Corrected
After removing the lenticule, the shape of the cornea changes. The result is refractive correction and clear vision.
What Happens During & After The Procedure?
Your eye is anesthetized with eye drops and a lid speculum is gently positioned to prevent you from accidentally blinking. The whole treatment process is then undertaken using the Zeiss Femtosecond Laser as a single step. The treatment usually takes between 10 and 15 minutes. The actual laser is in operation for only a tiny fraction of this time, and after a quick post-operative check by your surgeon, you are free to go.
The recovery from the procedure is generally quite comfortable (similar to LASIK) and the visual recovery is reasonably quick. You should have hazy but navigational vision after a nap. Most patients will need three days of recovery before driving and using a computer. Visual recovery with this procedure is generally a little slower than LASIK eye surgery, but quicker than with PRK or LASEK.
Is SMILE Right For You? Find Out During Your Free Consultation
The prospect of having clear vision is enough to excite any patient suffering a refractive error. But at Toledo LASIK, we hold ourselves to a high standard when it comes to performing any corrective procedure. We want the best outcome for our patients, which means thoroughly evaluating eyes to ensure we provide the right solution.
Toledo LASIK surgeon Dr. William Wiley is part of an elite group of surgeons who offer SMILE vision correction to their patients. Schedule a consultation to see if it's the solution you've been looking for.
While SMILE is a newer procedure, by no means is it rare. Millions of people around the world have had SMILE performed on their eyes. Toledo LASIK and our doctors are proud to be part of an organization that is in the top three SMILE providers in the United States in terms of surgeries performed. Below is a chart showing how many SMILE procedures have been performed worldwide.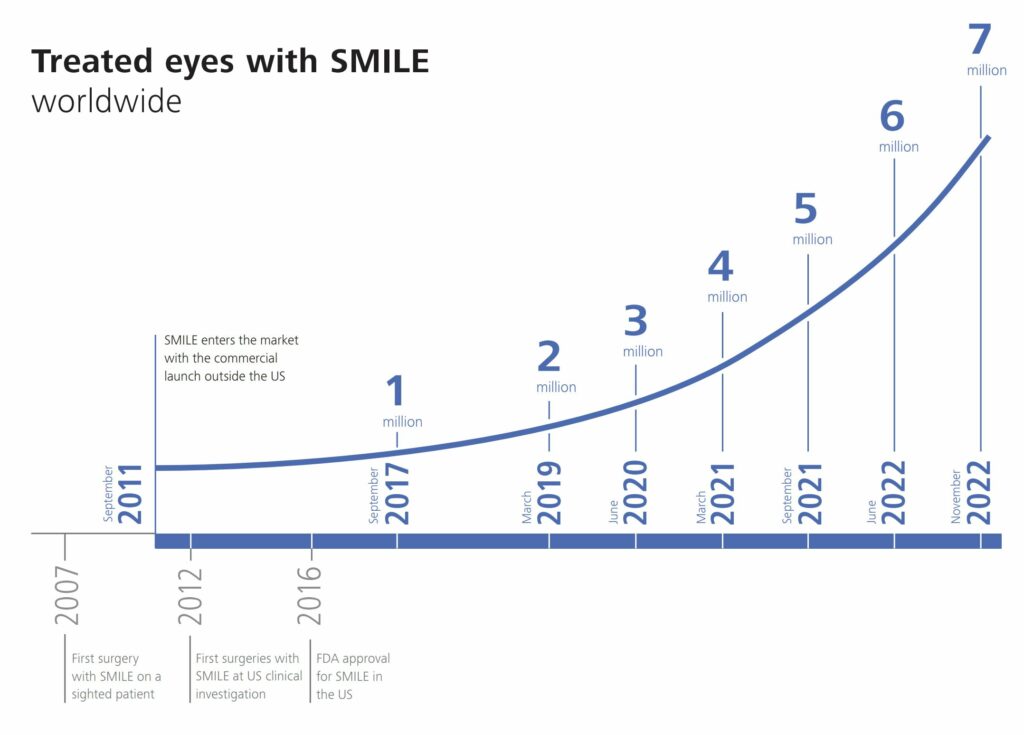 *en-INT_34_065_0062II CZ-XII/2022 The contents may differ from the current status of approval of the product or service offering in your country. Please contact our regional representatives for more information. Subject to changes in design and scope of delivery and as a result of ongoing technical development. SMILE is either a trademark or registered trademark of Carl Zeiss Meditec AG or other companies of the ZEISS Group in Germany and/or other countries. © Carl Zeiss Meditec AG, 2022. All rights reserved.
Frequently Asked Questions