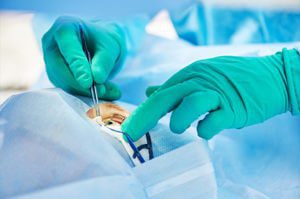 ReLEx (Refractive Lenticule Extraction) SMILE (Small Incision Lenticule Extraction) is one of the newest developments in vision correction procedures. This treatment is available in only a few laser eye surgery clinics in the United States.
ReLEx Smile uses state-of-the-art femtosecond technology to create a high-precision thin circular disc of tissue that is removed through a small incision in the cornea. The incision made with SMILE is less than 4 mm.
Some patients are not candidates for LASIK because of thin corneas, high prescriptions, dry eye, etc. Traditionally, the Toledo LASIK & Cataract surgeon used PRK/ASA for these eyes, which is a great procedure, but it takes longer to heal. SMILE is a good alternative allowing the for the safety profile that PRK provides for certain eyes, but with the quick healing similar to LASIK.
Download Our SMILE Brochure
Your eye is anesthetized with eye drops and a lid speculum is gently positioned to prevent you form accidentally blinking. The whole treatment process is then undertaken using the Zeiss Femtosecond Laser as a single step. The treatment usually takes between 10 and 15 minutes. The actual laser is in operation for only a tiny fraction of this time, and after a quick post operative check by your surgeon, you are free to go. The recovery from ReLEx is general quite comfortable (similar to LASIK) and the visual recovery is reasonably quick. You should have hazy but navigational vision after a nap. Most patients will need three of recovery before driving and using a computer. Visual recovery with ReLEx SMILE is generally a little slower than LASIK, but quicker than with PRK or LASEK
Toledo LASIK & Cataract surgeon Dr. Wiley is part of an elite group of surgeons who offer the SMILE procedure to their patients. We are now accepting consultations for SMILE. Schedule a consultation below, or read further for frequently asked questions.
Frequently Asked Questions