Do you find yourself squinting to see nearby objects? Is it difficult to read words without feeling a strain on your eyes? You may be noticing symptoms of hyperopia, more commonly known as farsightedness. To enjoy regular activities, people with farsightedness often rely on corrective lenses. However, millions of people have had their farsightedness corrected by LASIK eye surgery —giving them a new outlook on life. Take this opportunity to learn more about LASIK for farsightedness. 
What Is Farsightedness?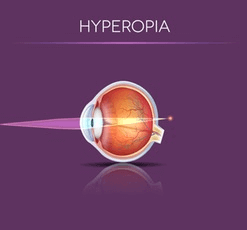 Farsightedness, also known as hyperopia, is a common condition resulting from the overall length of the eye being too short or having a flatter cornea, which is the clear frontal part of the eye.  In a normal eye, the light would pass through to focus on the retina. However, with farsightedness, the light passing through is focused behind the retina. 
Farsightedness should not be confused with presbyopia.  Presbyopia is an age-related near vision problem that occurs beginning around 40 years of age. This is a progressive loss of near vision related to changes in the lens of the eye.
Common symptoms of farsightedness include:
Objects nearby appear blurry

Squinting to see clearly

Experiencing eyestrain, burning sensations, and or arching in or around your eyes

Performing close tasks such as reading, writing, or working on a computer leaves you with eye discomfort and a headache
Are you experiencing any of these common symptoms? If so, you should visit your regular eye doctor to determine if you have farsightedness. After confirming the diagnosis, you should schedule an appointment for an evaluation. Our highly trained staff can help you determine whether LASIK for hyperopia is best for you.
Can LASIK Fix Farsightedness?
Not only can LASIK correct farsightedness, but it can correct astigmatism and nearsightedness as well. At Toledo LASIK & Cataract, our doctors use the most up-to-date technology and methods to deliver our patients the best results. With a quick 15-minute procedure, we can treat both of your eyes and have you see life more clearly by the next day. In addition to vision clarity, patients also enjoy a lifestyle that doesn't rely on carrying glasses or contacts around. 
LASIK for Farsightedness Evaluation
To ensure your best results, we'll thoroughly evaluate your eyes to determine the level of correction you need. The evaluation consists of a series of diagnostic tests, where we'll determine your vision stability and level of farsightedness. Additionally, this gives us a chance to ensure you get the best results and helps us determine if LASIK is right for you.
Are You a Candidate for LASIK for Farsightedness?
As beneficial as LASIK has been for so many people, some people are not candidates for LASIK. For patients with thin corneas, LASIK is not an option, unfortunately. The best way to determine whether you're a candidate for LASIK for farsightedness is through an evaluation. By scheduling a consultation with our staff, you'll give yourself the best chance to receive a life-changing procedure. 
If you can't find time to schedule a consultation or simply want a more convenient way of finding out if LASIK is right for you, we encourage you to take the LASIK Self-Test.
Not a Candidate for LASIK?
Don't be discouraged if you find out you're not a candidate for LASIK. At Toledo LASIK & Cataract, we proudly offer our patients a variety of LASIK alternatives. Our goal is to work with you to find the laser correction treatment best for your vision. See all of our LASIK alternatives here.
How Much Does LASIK for Farsightedness Cost?
When it comes to discussing your vision, the cost should be the last thing on your mind. Nevertheless, many patients put off or avoid seeking corrective laser surgery because of the cost. We're determined to change the narrative. With our financing options, our patients can receive the vision correction they need to get back to living life to the fullest. To get started with LASIK financing, please fill out the form here.
Get Started With Toledo LASIK
Like you, we want the best results for your vision. So when it comes to choosing where to have your procedure done, go with someone with a track record of success. With over 80,000 successful LASIK procedures under their belt, our doctors have the experience and reputation as one of the best in all of Ohio. When you choose Toledo LASIK & Cataract, you're choosing to receive some of the best treatment and care available.