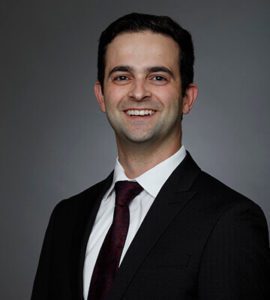 Dr. Logothetis completed his residency at Northwestern University where he served as Chief Resident, advocated for ophthalmology, performed cataract surgery for underserved communities in India, published in peer reviewed journals and presented research at several national conferences.
After finishing his undergraduate studies at Northwestern University, he spent six months living in Athens, Greece where he volunteered in several hospitals and studied modern Greek language at a local university. He then went on to attend the University of Illinois College of Medicine where his interest in ophthalmology began while observing cataract surgery and contributing to research in ophthalmology.
Growing up in the north suburbs of Chicago solidified his appreciation for Midwest family values and inspired his continued involvement in community service and advocacy. His favorite part of medicine is developing friendships with patients and helping them improve their quality of life through vision correction. He contributes his affinity to connecting with people to his cultural background.
When Hercules is not at work, he enjoys traveling and spending time with his wife, newborn son, and two dogs.
EDUCATION & TRAINING
Medical School
University of Illinois College of Medicine at Chicago,
Chicago, Illinois 2010-2014
Doctor of Medicine, May 2014
Undergrad
Northwestern University, Evanston, Illinois 2005-2009
Bachelor of Science in Human Communication
Sciences with Honors, June 2009
Minor in Classics (Ancient Greek)
HONORS & AWARDS
Chief Resident, Ophthalmology 2018
Resident Advocacy Ambassador Program –
Mid-Year Forum (AAO) 2016
Communication Sciences & Disorders
Honors Thesis 2009
Classics Honor Society (ΗΣΦ) 2007
LEADERSHIP, ACTIVITIES, & COMMUNITY SERVICE
International Phaco Elective, Grewal Eye Institute,
Chandigarh, India 10/2016
McGaw Housestaff Association, Member 2017 – Present
Hippocratic Cancer Research Foundation,
Founding Board Member 2015 – Present
Hellenic-American Academy of Chicagoland
Mentor Program, Director 2013 – Present
Hellenic-American Academy of Chicagoland,
Volunteer 2010 – Present
Olympian Greek Dance Troupe of Chicago 2007 – 09
PROFESSIONAL MEMBERSHIPS
American Academy of Ophthalmology (AAO)
Illinois Society of Eye Physicians and Surgeons (ISEPS)
Chicago Ophthalmologic Society
INTERESTS
Sports – golf, basketball, running, softball
Greek History/Culture – Studied abroad in Greece 6/09-12/09
LANGUAGES
INTERESTING FACTS
Dr. Logothetis completed his residency at the University of Illinois. As a senior resident, he was elected Chief Resident, and was decorated with awards and scholarships. Dr. Logothetis loves Greek history and culture. He has a strong background in advocacy in ophthalmology at the grassroots and national level. Dr. Logothetis has a natural passion for helping and connecting with others. His interactions with his patients seem to become instant friendships, making the relationship more personal. His passion to be great reflects in his efforts and participation. Dr. Logothetis's passion for refractive surgery is based on his xperiences in life, including his volunteer work in India and Chicago.