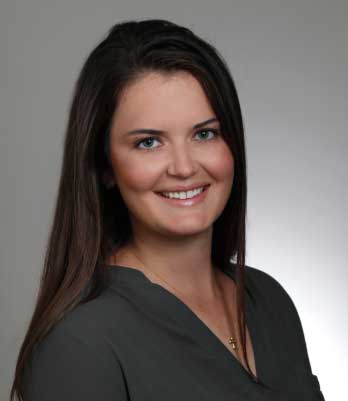 Dr. Kayla Karpuk is a residency-trained optometrist who specializes in anterior segment surgical care including cataracts, corneal disease, glaucoma and refractive surgery.  Dr. Karpuk completed her residency at Vance Thompson Vision in Sioux Falls, SD and chose to remain on staff there prior to starting her career at Toledo LASIK & Cataract Center and the Cleveland Eye Clinic.
She has extensive experience in perioperative cataract, glaucoma, and refractive care and has co-authored publications related to minimally invasive glaucoma surgery (MIGS) and extended depth-of-focus IOL technology.
Dr. Karpuk has an interest in clinical research and has participated in numerous FDA and industry-sponsored clinical trials in the areas of cataracts, glaucoma, and refractive surgery and she is excited to be working closely with the Research Department at the Cleveland Eye Clinic. The opportunity to work in such a diverse and dynamic practice setting as is available at Toledo LASIK & Cataract and Cleveland Eye Clinic, allows Dr. Karpuk to continue to remain focused on advancing her knowledge in eye care and she hopes to provide meaningful contributions to her profession.
Dr. Karpuk's favorite time is time spent with family and friends. In her free time, she enjoys being outdoors, traveling to new places, and yoga. She resides in the Cleveland area with her husband, Tanner, and their dog (a bernedoodle), named Kramer.
Education
Coe College
Cedar Rapids, Iowa
Illinois College of Optometry
Doctor of Optometry
Professional Societies
American Optometric Association
Optometric Cornea, Cataract, and Refractive Society (OCCRS)